Come partecipare
19 giugno 2016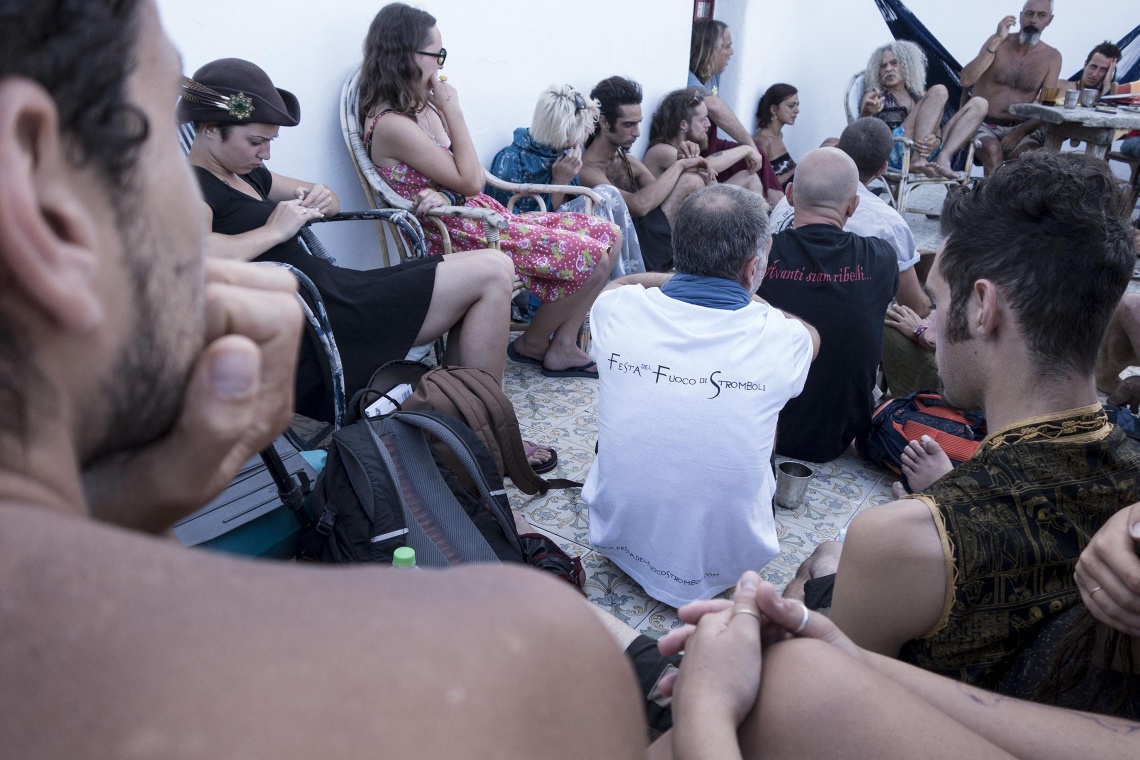 If you are interested in participating as an artist and performing at the Festa del Fuoco di Stromboli we kindly ask you to give your attention to this page, so you have a better idea what to expect.
The festival is organised by a small association and entirely by volunteers, with absolutely no economic motivations from our side, the return for our efforts surely not being of a material nature. We do look for a similar spirit in the artists we chose to host, as far as their expectations of the festival are concerned.
We do not sell tickets for the performances and the donations collected go to the artists.
In the first week of the festival we do try to offer a rather full program of the invited professional performers, giving them opportunity to present their work, their latest shows or innovative projects, even developed especially and often premiered at the Festa del Fuoco di Stromboli. Each evening the show is presented in one of several alternating venues all on the island of Stromboli. We do not repeat the same performances during the festival and offer a new program each evening, generally featuring two or three main artists/groups per evening, followed by informal fire jams.
We do appreciate artists also having some daytime show, children's entertainment, musical or walkabout acts and do encourage costuming and flamboyance also off stage, to create a more colourful and playful festival atmosphere on the island.
Becoming ever more important is the live music that accompanies the performances and celebrations, by carefully chosen musicians excited to play and collaborate , and during the festival there is plentiful time to hang out, jam, explore, improvise and create with the other artists, culminating in several evenings in the second week and a grand closing performance accompanied by live music and created as an ensemble by the talented family of artists formed during the two weeks on the island.
I say family, also because housing and meals are organised in a communal manner, living in two private homes, sharing bedrooms, bathrooms and facilities, and the responsibilities and chores that come with that, demanding from all participants a certain flexibility, consideration for others and the willingness to contribute to the functioning of the whole experiment.
Because of the special nature of the location being a live volcano, the intention of the festival of giving guests the time to experience this place and play with each other, as well as for a tight group with a family feeling to evolve, we prefer the invited artists to stay for as much of the festival as possible,  for a minimum of ten days, and we especially discourage people leaving before the collectively organised final evening, which we create during the course of the festival. We encourage, and help you to organise, a night time hike to the active craters during your stay.
The organisation of the Festa attempts to cover travel costs, accommodation and meals for the invited artists and volunteers. Meals are prepared home cooked in house and in Southern Italian style, making use of fresh, locally grown ingredients, and eaten all together at established hours on a terrace with direct beach access. Sleeping arrangements are dormitory stile with shared bathroom facilities. We therefore need everybody's generous collaboration and hands on participation to make everything run smoothly and agreeable, as well as healthy and hygienic, for all.
Obviously the family style organisation of the festival and the logistics of the island itself dictate the number of artists we can host offering accommodation and food. We therefore are looking for artists that are interested and willing to collaborate in more ways than just their personal performance, by holding workshops, volunteering, cooking, applying skills, as musicians and walk-about acts or in any other way they can help make the festival the best possible experience for all involved.
All through the festival there will be an open space to hold workshops and skill exchange sessions, where we aim to offer a comprehensive program of learning opportunities for all skill levels in the circus arts, as well as flow and movement techniques. You are invited to teach and learn.
Still interested ? If so please send us a proposal of your participation and performance, keeping in mind the theme of the upcoming edition of the festival, to festadelfuoco@gmail.com including:
*Name of your formation/group/ artist
*Number of artists in your group
*Background on you and why you think you are right for the Festa del Fuoco di Stromboli
*Name of performance(s) you would like to present
*Theme, style and short description of your performance(s), video links
*Music (style) used in your performance(s)
*Costume and props used
*Length of your performance(s)
*Any special technical needs, effects or equipment for your performance(s)
*Additional skills or ways you'd like to contribute
*Outline of the workshops you might want to offer
*Travel costs for your group to Naples or Catania and "back"
*Possible arrival and departure dates and length of stay
Note that bringing a vehicle to the island is difficult, it can't be driven on the island and will increase the costs of your travel .
Please be aware that we can only host a very limited number of artists each year and that we can not offer hospitality, in form of room or board, to who has not been officially selected to the Festa del Fuoco di Stromboli by the association. We may be able to help you find accommodation at a favourable price, if you let us know sufficiently in advance.
Thank you for your attention and we are looking forward to hearing from you.