Workshops
11 giugno 2016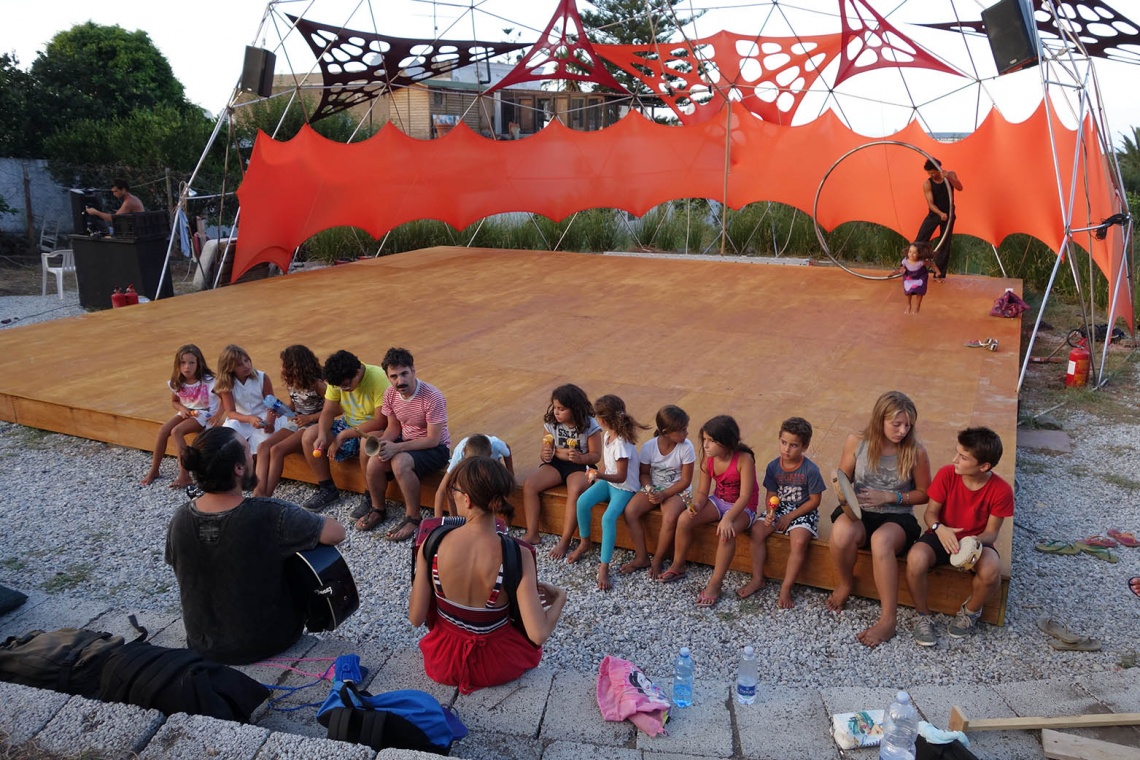 1. Sarah Mancino
Yoga_a_Stromboli
Una pratica profonda e morbida, accessibile a tutti. Respirazione, posture e rilassamento, accompagnato dal magico suono delle campane tibetane e dal tamburo armonico.
Dal 28 agosto – 10 settembre
Ogni mattina dalle 8 alle 9 e 30
2. Barbara Francesquine
Hula-Hoop Flow workshop
(intermediate-advanced)
This workshop combines different exercises to improve your flow with the hula hoops. It will try to get your dance out of your usual routine of body movements and tricks, pushing up a new dance based on your body memories
duration: 2h30 minimun
(could be more days depending of the festival conditions)
Hula Hoop workshop will explore:
1 hoop technique (tosses, isolations, rolls, balance, locks, in-body movements, etc)
2 hoops technique (tosses, isolations, rolls, balance, locks, in-body movements, etc)
3 hoops technique (tosses, isolations, locks, in-body movements, mandalas, etc)
mandalas 3, 4, 5 and 6 hoops
multi-hooping/dissociation (hooping in different parts of body at same time)
floor work
dance and choreography creation
3.Yanika:
Multi-hooping workshop:
Introduction to multi-hooping 1,5h workshop
and fun tricks with multiple hoops 1,5h workshop.
I can teach on the day 4 and 5. of Sept.
(for students: please bring your own hoops minimum. 2)
4.Firebirds
Acro with props ws":
Basic acrobalance positions which you can use in fire performances and creation of connecting elements with partner acrobatics. This we would hold once for 1,5-2 hours.
5.Olivia Al-Kimiya
Stage di: TRIBAL FUSION BELLYDANCE
ISOLAZIONI ONDULAZIONI E STILIZZAZIONI
Un viaggio nel mondo del tribal Fusion attraverso l'apprendimento di Tecniche di isolazione corporea e di ondulazione per poter ritrarre la musica con i muoventi del corpo esplorando infinite possibilità di interpretazione e interazione danza\corpo\musica. Stilizzazione di mani e braccia (snake arms and Floreo) ispirata a Danza del Ventre, Danza Indiana e Flamenco. Piccole sequenze danzate
Durata 1h.30 (2h???) dipendendo dalla vs disponibilità
Livello Open
6.KARINA da Mexico
STAGE HULA HOOP INTERMEDIO\OPEN
Tecniche per arricchire il proprio vocabolario di Danza con Hula sviluppando nuove idee e nuovi flou danzati.
1h.30
7. Thomas
Poi Workshop:
I will go through planes and open arm movements and turns to open up the movement for poi dancing.
Beginners. 1,30 h
I can also teach different poi technics intermediate to advanced.

(yoga tutte le mattine alle 8 con Sarah Mancino —> free per gli artisti del fuoco / 15 eu per gli esterni).
8.Gustavo Ollitta
CIRCUS – Manipulation with Buugeng, Poi, Hoop, Staff
Age= +4
Duration= 3h
For 3 days min.
Do you want to learn the beauty of manipulation and circus techniques?
The technique of Manipulating is a different way to use your circus equipment! The Manipulation technique consist on creating movements with one or more  object on different ways, isolating it ,creating different patterns as anti-spin and many others.
It can be used for Juggling clubs, Staffs, Hoops, Buugeng.
Buugeng Workshop details
The buugeng workshop consists on the exploration of different kinds of manipulation in the space with 2/4 S-staffs and Triple buugeng, and process of creation with the equipment.  During this 3 days of classes, each student are presented to basics and advanced technique to explore and create your own style of performance.
9. Vittoria Di Bella
Workshop di Pizzica e Balli Popolari del Sud Italia
30 e 31 agosto
5 – 6 – 7 Settembre
h. 17 – 18.30
Parco Parco